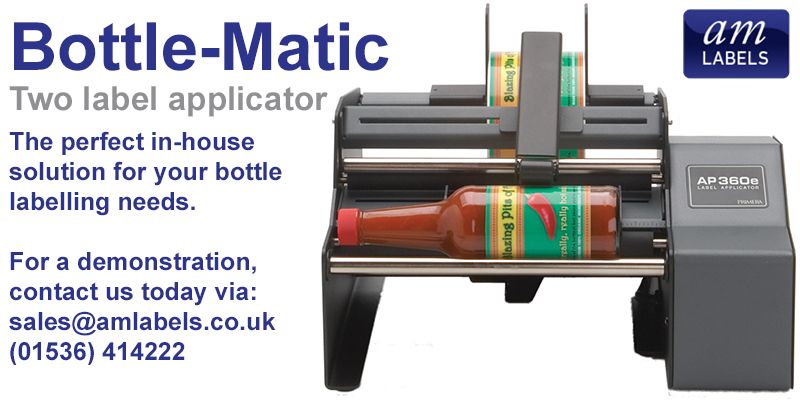 With 18 years experience of the labeling industry, AM Labels are here to consistently bring you the leading edge in label printers.
If you are looking for a quick and simple solution to labeling your vape bottles, look to the BottleMatic II Two Label Applicator. With the ability to print up to 1200 labels per hour and with photo-quality print outs, you'll be able to optimise your manufacturing process and produce new flavours as and when you need them - allowing you to get ahead of the trends. Even if you have no experience with using labeling machines, its incredibly simple to operate: load your labels, feed between the dispensing tables, then through the patented roll assembly and snap into place. After that just pop in your bottle and at a click of a button you're ready to go! With its small desktop size, you don't need to worry about this printer taking up any space, so it will work even for small businesses. Already successfully integrated into a number of vape businesses, the BottleMatic is the perfect solution for your labeling needs.
Key Features
Label objects from .5" to 10" in diamete; ideal for test tube to 1.5 gallon bottles.
Gap adjustment is quick and easy.
Accurate: Maintains repetitive gap spacing to 0.0625" or less on most containers. Hold 0.0312" side-to-side accuracy on most containers.
Label cylinders to 15" lengths (or longer if the item has a neck).
Able to handle most tampered containers by simply adjusting the idle roller position.
Labels over 1000 pieces per hour with average dexterity.
Side frames are laser-cut from quality steel, then formed, countersunk, deburred and inspected.
Dispensing tables are formed out of 6061-T6 aluminum. Its peel edge is hand-milled to spec within .001".
Dispensing tables are polished with ultra-fine polishing compound so paper flows freely around the plate.
Bottle-Matic II uses dual AC-shaded pole gear motors.
Micro-switch activated; will work on all kinds of labels.
Modifications are available for those hard-to-label containers.