If you are currently outsourcing or paying someone to design your labels, you could save time and money by creating your designs in house. Whether you are within the pharmacy industry or the food industry, labels are utilised everyday, and are often the first thing the customer hones in on with your product. Poor and badly designed labels can easily defer customers from your product, no matter how fantastic it is. Understandably, a lot of people don't have experience with label design using computer software - and there is were BarTender steps in.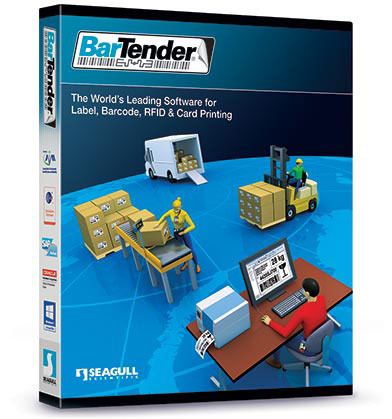 Given how much we rely on labels everyday, you need label design software that needs to be easy, flexible and precise. Seagull Scientific Bartender is an easy to use label design software which allows you to create professional looking labels in a few clicks of a button. You  can combine barcodes, text and graphics to create your ideal design - you can even encode RFID tags!
Easy to learn and use
Equipped with help 'wizards' that can help your every step of the way, intuitive mouse motions (you can simply grab a barcode and drag to resize it), and clever design make BarTender an easy access software programme. With just a few clicks you can become an expert in label design.
Ready to use templates that create compliant labels
If you are concerned or not sure on how to make your labels industry compliant, BarTender has a selection of ready-to-use templates that include everything you need to work too these standards. Or you can design your own to templates to use for your labels.
Advanced Design functions
With more than 50 pre-defined shapes that can be coloured, resized and reshaped to however you need them and a vast drawing function, alongside a huge variety of fonts, you have the power to create that perfect design. You can also import and export any imagery or barcodes you may need! BarTender is also suitable for use with almost all printer brands, making it incredible flexible, and can accept information from any source - whether that be entering data on a keyboard or importing weights from a packaging scale.
Guaranteed Latest Version
If you purchase from AM Labels you are always guaranteed the latest version of BarTender, the most current is 
version 10.1.
Lead time
You will receive your license key within 24 hours, so you can get started with your new product right away.
Maintenance
Bartender Maintenance contracts are an easy and cost-effective way to update your version of BarTender at approximately 50% of the conventional software updates for BarTender. Purchasing a maintenance contract will entitle you to all software updates throughout the year, so you need not worry about purchasing new software again and again.
You can read more about how this fantastic software can benefit you here. If you would like too discuss further how this product could suit you or which edition would be best for you, contact us today at sales@amlabels.co.uk/(01536) 414222.