Protect confidential patient data with secure printing, scanning and archiving and help improve your patient safety by using printing clear, precise colour labels that highlight important information with the Epson ColorWorks C7500 series.
Designed to satisfy the growing demand from companies who want to print their own full color labels, the Epson  C7500G is ideals for pharmacies as it allows the user to produce clear, precise colour labels that highlight vital information for the patients well being and safety. The printer has a resolution of 600 x 1200 dpi, and a variable droplet size producing labels to a very high standard. The printer maintains and produces a high level of print quality at the fastest print speed of 300 MM per second. The cost effective solution allows pharmacies to produce labels on demand quickly and effectively and eliminated the need to scrap unused labels, saving you money and making your business greener.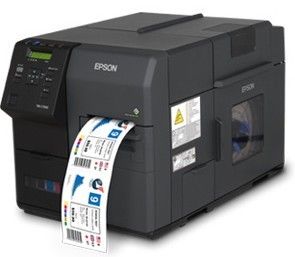 The innovative Epson C7500G features new print head technology, overcoming many of the reliability and print quality problems of alternative technologies which will improve your staffs' workflow. The revolutionary new Nozzle Verification Technology improves reliability, extends the life of the print head and overall print quality.  Piezo crystals eject the ink directly onto the labels, instead of using heating elements, therefore reducing the risk of blocked nozzles. The printer's software can also detect a blocked or even partially blocked nozzle, and initiate a cleaning cycle for the specific area of the print head. In the event of this happening during production a 'self-healing' system will use alternative nozzles to compensate for any blockage. Epson is so confident of the new print head technology that it is guaranteed for three years' under the maintenance contract. This low-maintenance allows staff to focus on other areas of other areas of the business effectively without worrying about the printer.
The Epson C7500G uses specially developed pigment based ink, Epson Ultrachrome DL, which is perfect for the production of very glossy, high quality, distinctive pharmacy labels which will last in storage so they are readable for the patient for as long as they need them.
Tony Mariani, our Managing Director  thoughts on the product: "The new Epson C7500G is an immense step forward in colour label printing technology, with improved print head reliability and the ability to maintain superb print quality at the highest print speed. While it has the advantage of durable and fade resistant ink, it can use a wide range of label materials that was not previously possible with this type of technology, giving customers a broader choice and greater opportunities in presenting products attractively."
If you would like too see this fantastic product for yourself, come and visit us at the Pharmacy Show October 18th/19th, stand PG28. Alternatively, you can contact us today to find out which product is best for you or just to request a pack of printed samples. on sales@amlabels.co.uk/(01536) 414222.
Key features and benefits of the Epson ColorWorks C7500G colour label printer:
·

Printing technology: Epson PrecisionCore

·

Print speed: 300mm/second (11.8 inches/second)

·

Print resolution: 600 x 1200 dpi with variable droplet size

·

Ink cartridges: Epson Ultrachrome DL ink

·

Cutter: Auto-cut and manual cutter

·

Cartridge colours: cyan, magenta, yellow, black

·

Print width: 51-108mm (2 to 4.25 inches)

·

Options: Clip-on purpose designed label re-winder

·

USB and Ethernet interface

·

Product weight: 36.7 kg

·

Dimensions H x H x D: 392 x 397 x 598 mm