Print Your Own Tea and Coffee Labels
Reduce your labelling costs with on-demand colour printers!
Colour label printers are a cost-effective printing solution which gives you the power to design, print and manage high quality labels in-house.
No longer will you be wasting printed labels, as AM Labels range of colour label printers are designed for both short and long on-demand print runs, allowing you to print the exact quantities of labels required.
Please fill out the form to receive printed examples of your labels printed on the Epson ColorWorks label printers.
High Performance Colour Printer
Epson ColorWorks C7500- Pigment based colour printer
Print high-quality labels in-house and on demand. Ensuring consistent results every time, the ColorWorks C7500 features Epson's new PrecisionCore MicroTFP printhead with unique Nozzle Verification Technology (NVT) and dot substitution to ensure consistent prints and prevent dead pixels.
Quickly and easily produce a range of high-quality labels for food and beverage products, packaging and boxes, EU energy labels, GHS labels and more. With print speeds of up to 300mm/sec, you can now print labels in full colour at the same speed as some thermal monochrome printers, with no compromise on print quality.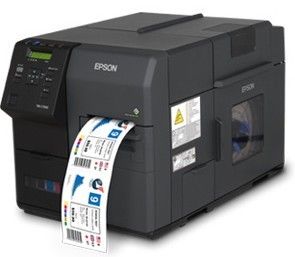 Entry Level Colour Printer
Epson ColorWorks C3500 - Pigment Based Colour Printer
Affordable and compact, the Epson TM-C3500 is 4" entry-level pigment based inket printer designed with the user in mind.
Easy to use and perfect for first time labelling users; the media is simple to load, with a clear LCD display, that clearly indicates ink levels and the printer status. With printing speeds of up to 4 inches per second, the TM-C3500 is ideal for short bespoke labelling runs.
With a medium print resolution of 720 x 360dpi, it can handle high demands without compromising quality.
Whether it's printing packaging labels with colourful logos and picture, or tickets and ID cards with crisp barcodes and product information, the 720 x 360 DPI print resolution of the TM-C3500 ensures you can print it all from one machine.
Call us now on 01536 414 222 or email sales@amlabels.co.uk to discuss the perfect solution for your business.